Old-school compliance training is challenging for organizations to offer, difficult to do right, and is generally very expensive to deliver.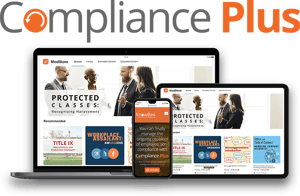 While compliance training is necessary, it doesn't have to be "Ugh! Here we go again, let's just get through this!"
Time for New-school compliance training.
In this live one-on-one demo we will show you how easy it is to deliver your compliance training program using Compliance Plus with KnowBe4's training platform.
Compliance Plus gives you:
A whole new library with fresh compliance content updated regularly
Coverage of legislative requirements, such as HIPAA and many others
New-school high-quality customizable modules
Short, interactive modules to keep learners focused, newsletters, docs, and posters are all included
Completely automated compliance training campaigns with world-class support and extensive reporting
See for yourself how Compliance Plus can help you keep your users on their toes with compliance, risk and workplace safety top of mind!
REQUEST A DEMO!