About KnowBe4
KnowBe4 is the provider of the world's largest security awareness training and simulated phishing platform. We enable your employees to make smarter security decisions every day.
Gartner Magic Quadrant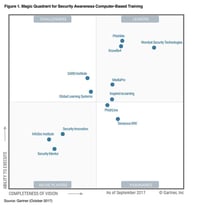 KnowBe4 has been positioned by Gartner, Inc. in the Leaders quadrant of the Magic Quadrant for Security Awareness Computer-Based Training for the second year in a row. KnowBe4 was positioned furthest in vision. For more information, please visit:
https://www.knowbe4.com/press/knowbe4-positioned-as-leader-in-the-gartner-magic-quadrant-for-second-consecutive-year
Q3 2018 Top-Clicked Phishing Report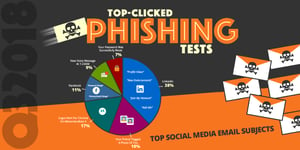 The messages in the report, which were compiled from analyzing KnowBe4 user data, are based on simulated phishing tests users received or real-world emails sent to users who then reported them to their IT departments. The top three messages for Q3 2018 show that hackers are playing into users' commitment to security, with password checks, as well as their curiosity, with a new voicemail or order on its way. For more information, please visit:
https://www.knowbe4.com/press/knowbe4-releases-q3-2018-top-clicked-phishing-report.
KnowBe4's Security Awareness Training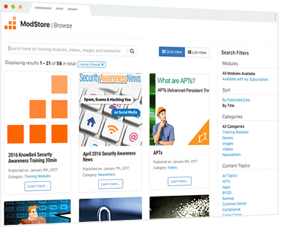 Old-school security awareness training doesn't hack it anymore. Today, your employees are frequently exposed to sophisticated phishing and ransomware attacks.
We offer you the best-in-class phishing platform combined with the world's largest library of security awareness training content; including interactive modules, videos, games, posters and newsletters. Think of us as the Netflix of awareness training.