Cybersecurity Awareness Month is a great time to educate yourself and your users.
Not sure where to start? We've got you covered! We put together a set of resources you can use throughout the entire month to help your users keep up their cybersecurity defenses, no matter where they are. For you: our popular security awareness on-demand webinar and whitepaper, sample training plan and best practices for your own training program. For your users: infographics, cybersecurity awareness tip sheets, plus new posters and backgrounds that will help to keep them on their toes with security top of mind.
Resources for Planning Your Training:
Cybersecurity Awareness Month Guide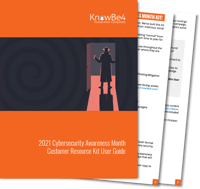 Getting Started:

We've built this kit to help you drive home the importance of cybersecurity and keeping safe from malicious social engineering attacks targeting your employees. We put together resources and suggested courses you can use from the KnowBe4 platform to help your users keep up their cybersecurity defenses throughout the month, no matter where they are. This guide walks you through user resources included in your kit, suggestions for how to use them, and campaign ideas to get you started.
Download Customer User Guide >>
Cybersecurity Awareness Weekly Planner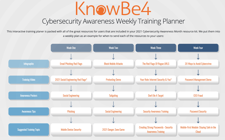 This interactive training plan can be used during the month of October and beyond. Covering all of the latest security threats, it's complete with infographics, videos, security tips, and more! You can view all the content in the planner directly in your ModStore and refer to the getting started user guide above for suggestions on how to use them.
Planner for US Instance>>
Planner for EU Instance>>
Featured On-Demand Webinar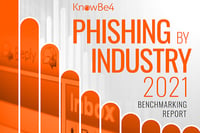 2021 Phishing By Industry Benchmarking Report
The 2021 Phishing By Industry Benchmarking Report compiles results from the fourth annual study by KnowBe4 and reveals at-risk users across 19 industries that are susceptible to phishing or social engineering attacks. Taking it a step further, the research reveals radical drops in careless clicking after 90 days and 12 months of simulated phishing testing and security awareness training using the KnowBe4 platform.
Featured Whitepaper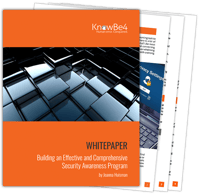 Advanced Phishing Tips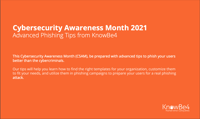 This Cybersecurity Awareness Month be prepared with advanced tips to phish your users better than the cybercriminals. Our tips will help you learn how to find the right templates for your organization, customize them to fit your needs, and utilize them in phishing campaigns to prepare your users for a real phishing attack. Download PDF >>
Support Documentation
New Landing Pages and Security Hints & Tips
Resources For Your Users:
Kevin Mitnick Cybersecurity Demos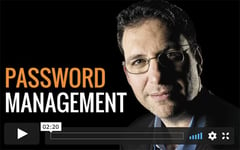 Password Management Demo
Access in ModStore
|
Access on Vimeo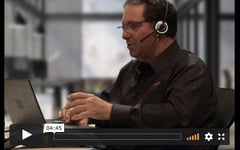 Pretexting Demo
Access in ModStore
|
Access on Vimeo
Infographics and Tip Sheets
Awareness Posters
Awareness Backgrounds
For more resources, tips, and news for you and your users throughout cybersecurity awareness month be sure to follow and mention @KnowBe4 on social media: Twitter, Facebook and LinkedIn. Use the hashtag #CyberAware to stay in the loop and make sure to subscribe to our blog.