Did you know that email is still the #1 attack vector used by the bad guys?
Spoofed domains, malicious attachments and executables to name a few... With email still the #1 attack vector, do you know if hackers can get through your mail filters?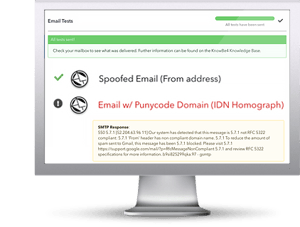 KnowBe4's NEW Mailserver Security Assessment (MSA) tests your mailserver configuration by sending 40 different types of email message tests that check the effectiveness of your mail filtering rules.

MSA gives you a quick insight at how your mailserver handles test messages that contain a variety of different message types including email with attachments that contain password-protected, macro zipped, and .exe files or have spoofed domains.
Here's how it works:
100% non-malicious packages sent

Select from 40 automated email message types to test against

Saves you time! No more manual testing of individual email messages with MSA's automated send, test, and result status

Validate that your current filtering rules work as expected

Results in an hour or less!
Find out now if your mailserver is configured correctly, many are not!

NOTE: We need a valid email address from the domain of your own organization, so Gmail, AOL, Yahoo or any other ISP are not accepted.
---
About KnowBe4
KnowBe4 is the world's largest integrated platform for new-school security awareness training and simulated phishing. KnowBe4 was created to help organizations manage the ongoing problem of social engineering.