Are your users putting a big target on your organization's back?

Cybercriminals are constantly coming out with new ways to hack into your network and steal your organization's confidential information.

Verizon's recent Data Breach Report showed that 81% of hacking-related breaches used either stolen or weak passwords. And, a new survey from Dark Reading shows 44% of organizations say users pose the greatest threat to data security!
Find out if your users are putting a big target on your organization's back.
KnowBe4's new Password Exposure Test (PET) is a complimentary IT security tool that allows you to run an in-depth analysis of your organization's hidden exposure risk associated with your users.
PET makes it easy for you to identify users with exposed emails publicly available on the web, and checks your Active Directory to see if they are using weak or compromised passwords that are part of a known data breach. PET then reports on any user accounts affected so you can take action immediately!
Here's how the Password Exposure Test works:



Che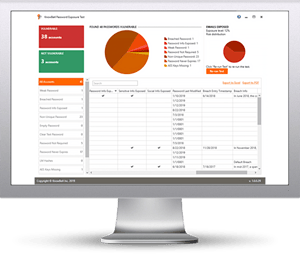 cks to see if any of your organization's email addresses have been part of a data breach


Tests against 10 types of weak password related threats associated with user accounts


Checks against breached or weak passwords currently in use in your Active Directory


Reports on the accounts affected and does not show/report on actual passwords


Just download the install, run it, get results in minutes!

Identify which users may be putting your organization at risk before the bad guys do!
Requirements: Active Directory, Windows 7 or higher (32 or 64bit) NOTE: the analysis is done on the workstation you install PET on, no confidential data leaves your network, and actual passwords are never disclosed.