Title: [New PhishER Feature] Turn the Tables on Cybercriminals with PhishFlip
Date: Wednesday, January 25, 2023
Time: 2:00 PM Eastern Standard Time
Duration: 30 minutes


Overview
Cybercriminals are always coming up with new, devious phishing techniques to trick your users. PhishFlip is a new PhishER feature that allows you to respond in real time and turn the tables on these threat actors. With PhishFlip, you can now immediately "flip" a dangerous attack into an instant real-world training opportunity for your users.
Your users are likely already reporting potentially dangerous emails in some fashion within your organization. You can now combine your existing PhishRIP email quarantine capability with the new PhishFlip feature that automatically replaces active phishing threats with a new defanged look-alike back into your users' mailbox.
The new PhishFlip feature is included in PhishER—yes you read that right, no extra cost— so now you can turn the tables on these threat actors and flip targeted phishing attacks into a simulated phishing test for all users. This new feature dramatically reduces data breach risk and the burden on your IT and InfoSec teams.
See how you can best manage your user-reported messages.
Watch this 30-minute demonstration of PhishER, the #1 Leader in the G2 Grid Report for SOAR Software. With PhishER you can:
NEW! Automatically flip active phishing attacks into safe simulated phishing campaigns with PhishFlip. You can even replace active phishing emails with safe look-alikes in your user's inbox.

Easily search, find, and remove email threats with PhishRIP, PhishER's email quarantine feature for Microsoft 365 and Google Workspace

Cut through your Incident Response inbox noise and respond to the most dangerous threats more quickly

Automate message prioritization by rules you set into one of three categories: Clean, Spam or Threat

Easy integration with KnowBe4's email add-in button, Phish Alert, or forwarding to a mailbox works too!
Find out how adding PhishER can be a huge time-saver for your Incident Response team!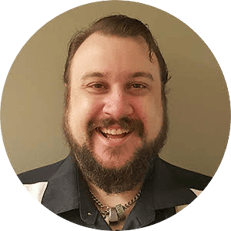 Chris Cline
VP of Product Management
KnowBe4
Chris Cline has worked in a variety of fields as development, management, architecture, and product design for nearly twenty years. Security and optimization have always been a passion. At KnowBe4, Chris is the product manager for PhishER, a lightweight platform that helps you identify and respond to email threats.