How vulnerable is your network against ransomware attacks?

Bad guys are constantly coming out with new versions of ransomware strains to evade detection. Is your network effective in blocking ransomware when employees fall for social engineering attacks?
KnowBe4's Ransomware Simulator "RanSim" gives you a quick look at the effectiveness of your existing network protection. RanSim will simulate 13 ransomware infection scenarios and show you if a workstation is vulnerable to infection.
NEW False Positive Scenarios
These "FP" scenarios do not emulate ransomware and should not be blocked by your antivirus. If either of these two new scenarios are blocked, RanSim will report it as "incorrectly blocked" in your results and you know your AV is "cheating".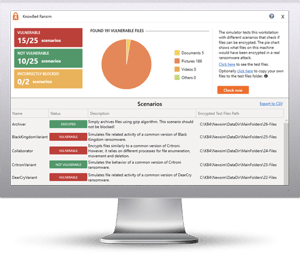 Here's how RanSim works:


100% harmless simulation of a real ransomware infection

Does not use any of your own files

Tests 13 types of infection scenarios

Just download the install and run it

Results in a few minutes!
This will take you 5 minutes and may give you some insights you never expected!

NOTE: RanSim was created for Windows-based workstations running Windows 7+. RanSim does not alter any existing files on disk. As part of the simulation RanSim does enumerate all files on the local disk(s). For the purposes of encryption, simulated data files are downloaded from the Internet.
---
About KnowBe4
KnowBe4 is the world's most popular integrated platform for security awareness training combined with simulated phishing attacks. We help thousands of organizations to manage the continuing problem of social engineering. Our mission: Train your employees to make smarter security decisions.