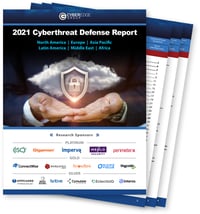 Learn how your peers across multiple industries and countries perceive these threats with CyberEdge's eighth annual Cyberthreat Defense Report!

Download the report now for insights into these trends and many more:
"Low security awareness among employees" tops this year's list as the biggest barrier to establishing successful cybersecurity defenses


86% of organizations experienced a successful cyberattack, up from 81% the prior year, the largest year-over-year increase in six years


69% of organizations were victimized by ransomware, up from 62% the prior year


The Cyberthreat Defense Report, co-sponsored by KnowBe4, surveyed 1,200 IT security professionals representing 17 countries and 19 industries to gauge perceptions about cyberthreats and ascertains future plans for improving security and reducing risk. Use the findings to benchmark your company's security posture, operating budget, product investments, and best practices against peers in your industry and region.
Download this report today!