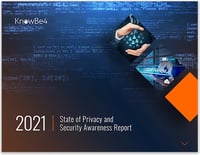 To share vital information on cybersecurity and data privacy policies, regulations and standards with your employees, your organization must compete with the realities of the digital world.
It begs the question as to how effective this knowledge transfer is, in particular when it comes to cybersecurity and privacy. After all, employees not knowing the right thing to do can bring huge risk of data breach or cyberattack to your organization.
To gain new insight on the subject, Osterman Research conducted an in-depth survey of more than 1,000 US-based employees during late 2020 and early 2021 to understand how much employees know and how they put what they know into action.
Download this original research report to explore important insights into overall employee awareness such as:
Only 48% of employees believe it is likely or very likely that their mobile device could become infected with malware if they click on a suspicious link or attachment in an email


Almost a quarter of respondents (24%) believe that clicking on a suspicious link or attachment in an email represents little or no risk


Employees who are trained once a month are 34% more likely to believe that clicking on a suspicious link or attachment in an email is risky compared to employees who receive training no more than twice a year


Only 31% of employees feel that they understand business email compromise very well and can explain what it is to others, despite the fact that this attack vector is a huge and growing problem that costs businesses many millions of dollars each year
Download this report today for more information that will help you build an informed employee population and establish a strong security culture.