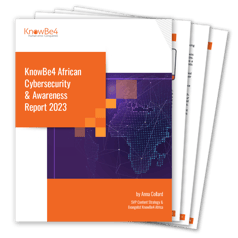 Since 2019, KnowBe4 has conducted annual Africa-wide surveys to explore whether or not people living on the continent are prepared for the current cyberthreats, what the state of cryptocurrency and blockchain security is and how organisations instill a culture of cybersecurity throughout Africa.
The 2023 report gives you need-to-know information to help you refine your best practices across cybersecurity, training and management. Organisations like yours need to invest in improving security culture to augment their defenses against social engineering and malware attacks.
Read this report to learn important insights such as:
How worried the average user is about cyber crime and the frequency of cyber attacks they encounter


The most common reasons for users making cybersecurity mistakes


Overall knowledge of emerging technologies, such as the metaverse, deepfakes and cryptocurrency


Why new-school security awareness training is still your best last line of defense against attacks from anywhere around the globe
Download this report today!