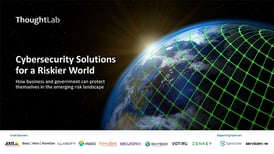 From the explosion of work-from-home concerns to increased threats from nation-state actors, cyber defense teams and InfoSec professionals have had to face an ever-changing threat landscape not quite seen before.
Knowledge of emerging threats and how best to address them continues to prove a vital tool in any InfoSec professional's toolbox.
Benefit from the experiences of others in your field with the 2022 Cybersecurity Solutions for a Riskier World report. This study, which analyzed the cybersecurity strategies and results of 1,200 large organizations across 14 different sectors and 16 countries, examines how cybersecurity leaders organize for success and which investments in people, process, and technology deliver the best results.
Download this research to explore:
The importance CEOs have placed on cybersecurity over the past year
How many organizations report being unprepared for a rapidly changing threat landscape
The role human error plays in the cyber attacks of today and tomorrow
What threats security executives think are coming
Expert-sourced best practices to keep your organizations secure
The 2022 Cybersecurity Solutions for a Riskier World report, co-sponsored by KnowBe4, offers industry trends and practical steps you can take to be more risk-ready, human-centric and risk-based.
Download this report today!