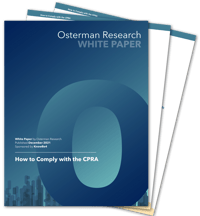 If your organization handles data of California residents, these regulations cannot be ignored. Gaining insight into where your efforts stand in relation to your peers and what elements still need work is an important step in prioritizing your next steps and ensuring compliance.
Read this original research report, produced by Osterman Research, to explore how mid-size and large organizations have prepared for the CCPA and what steps still need to be taken to comply with the coming CPRA. The report also provides best-practice guidance for getting your data protection and compliance initiative on the right track.
You'll gain insights into the state of CPRA compliance such as:
How mature the average organization's approach to data privacy is
What budget organizations are preparing to spend on CPRA compliance
The status of employee training initiatives related to the CPRA
Five best practices for complying with the CPRA
Download this report today!