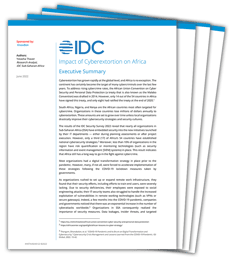 These amounts are set to grow over time unless local organizations drastically improve their cybersecurity strategies and security cultures. However, only a third of Africa's 54 countries have established national cybersecurity strategies.
Explore insight and best practices into the cybersecurity posture of organizations in this part of the world with the IDC report Impact of Cyberextortion on Africa, sponsored by KnowBe4. The research highlights key findings from the latest IDC research on security trends and examines current approaches to digital transformation, cloud security, and business priorities in sub-Saharan Africa. The research was focused on South Africa, Kenya and Nigeria.
Key insights include:
Africa's digital transformation and cyber risks it continues to face
What keeps CISOs in these countries up at night
The financial implications of cybercrime
The role the human element plays in improving organizational security culture
Download this report today!