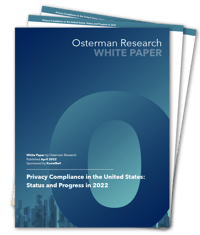 Knowing where organizations like yours stand in relation to your peers and what data privacy elements still need work is an important step in prioritizing your next steps, ensuring compliance and reducing risk.

Read this original research report, produced by Osterman Research, to explore how mid-size and large organizations in the U.S,. are preparing for ever-emerging privacy regulations and what work still needs doing. The report also provides a roadmap and a set of guideposts to help in safeguarding customer trust and meeting current and emerging regulatory requirements.
Download this report for insight into:
How mature most organizations are in their approach to complying with privacy regulations
The top motivations for privacy compliance (It might not be what you think)
How much organizations know about the sensitive data they hold
The impact employee training can have on reducing overall risk
Download this report today!