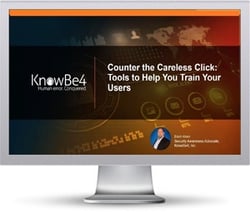 Cybercriminals are successfully and consistently exploiting human nature to accomplish their goals. Employee training is tied as the third-most-effective method (higher than antivirus) of decreasing the cost of a data breach.*
Many IT pros know users are the weakest link in network security, but don't exactly know where to start when it comes to creating a security awareness program that will work for their organization.
View this 30-minute webinar "Counter the Careless Click: Tools to Help You Train Your Users" where Erich Kron CISSP, Security Awareness Advocate of KnowBe4, will provide a practical session with tips and free tools you can implement now to help you create your "human firewall".
Erich will cover:
Current threat landscape
Top 5 tips for security awareness
How to easily create your security awareness program
Outlining how and where tools are helpful