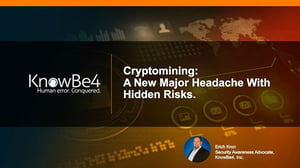 Cryptomining infections are growing exponentially this year. Bad guys are hijacking your network processing power to steal your workstation and server resources. They are using various families of malware trying to stay under your radar.
Trying to maximize their criminal profits, they now infiltrate your network and use malicious code to determine the most lucrative attack–cryptomining or ransomware–making these attacks more dangerous than ever. To add insult to injury, they often leave whole libraries of hacking tools and backdoors behind.
Join Erich Kron, KnowBe4's Security Awareness Advocate, and learn more about the combined Ransomware / Cryptomining threat along with real-world examples of how criminals attack your users and network through innovative and devious tactics.
You'll learn about:
Cryptomining and what the real danger is to you

The combined cryptomining/ransomware threat

How this type of malware spreads

What you can do to protect your network