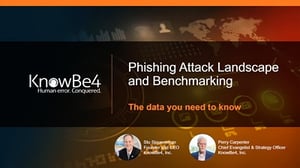 One of your important and ongoing IT security initiatives is getting the Phish-prone percentage of your users as low as possible. But how are you doing compared to the "similar-size peers" in your industry?
We just finished a big-data analytics exercise over the 15,000 customers we have and came up with new baseline phish-prone percentages, and how fast it drops. The numbers are very interesting to say the least, and we are releasing them in this on demand webinar!
Join security experts Stu Sjouwerman, CEO at KnowBe4, and Perry Carpenter, Chief Evangelist and Strategy Officer at KnowBe4 and former Gartner Research Analyst, for this webinar "Phishing Attack Landscape and Benchmarking" as they discuss brand-new research based on what your users are clicking and find out how you are doing compared to your peers with new phishing benchmarks by industry.