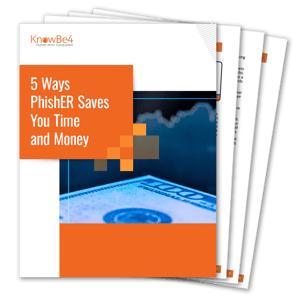 Whether or not you've deployed security awareness training to your employees doesn't change the fact that your users are likely already reporting potentially dangerous emails in some fashion within your organization. While a good sign, an increase in reported email traffic can make it a challenge for your infosec to tease out real threats from false positives.

In this whitepaper, learn how PhishER, KnowBe4's industry-leading Security Orchestration, Automation and Response (SOAR) platform, brings the perfect mix of features and functionality together to make the most out of your infosec team's efforts.
Read this whitepaper to learn how PhishER can:
Tell you what your other defenses are missing in real-time
Support just-in-time, focused training against real threats
Provide data and support to show real risk reduction
Download this whitepaper today!