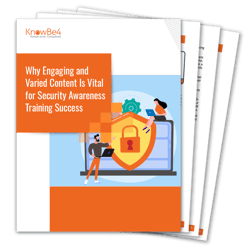 Modern-day cyberattacks use a combination of impersonation and social engineering to engage with an employee – either on the web or, more often, via email – and get them to act in a way that benefits the attack.

Regular security awareness training helps ensure that your employees are aware of the risks they face, but not just any training will do. Real behavior change requires engaging, contextual training that is meaningful and practical based on the individual, their role, and the industry vertical the organization is in.
In other words, training that aligns with your target audience: your employee.
Download this whitepaper to explore the value of a security awareness training initiative that incorporates engaging and varied content. This asset contains actionable advice and ideas for bringing your security awareness training to the next level.
Download now to learn:
How the way you deliver your training and the content you use is critical to the success or failure of your security awareness program


Why engagement, repetition and variety all play a role in seeing a positive change in employee cybersecurity behaviors


What thinking like a marketer will bring to your security awareness training efforts
Download this whitepaper today!