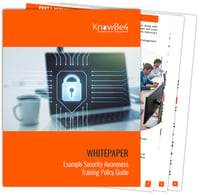 Your employees may be in the crosshairs, but you can take steps to equip them with the knowledge they need to stay secure with a robust security awareness training initiative. Like any cyber risk mitigation strategy, security awareness training works best when procedures are written down to ensure your team walks through the necessary steps as efficiently as possible.

This free guide, by KnowBe4's own Data-driven Defense Evangelist Roger Grimes, details why a dedicated security awareness training policy is important and how to craft one that works for your organization.
Download this guide to learn:
What makes a good security awareness training policy
How to align your policy to existing best-practice cybersecurity standards
Why training and simulated phishing procedures should go hand-in-hand
This guide includes a free Security Awareness Training Policy template you can use to get started right away.
Download this resource today!