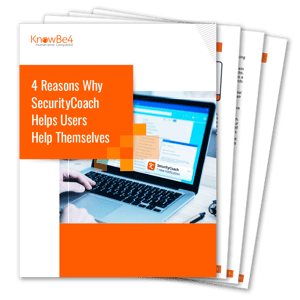 But your users want to do the right thing. Rather than a hurdle to be overcome, organizations need to think of their employee base as an asset, once properly equipped.
In this whitepaper, learn how KnowBe4's SecurityCoach tool helps strengthen your security culture by enabling real-time coaching of your users in response to their risky security behavior. The real-time, focused, security awareness training is called coaching because these quick messaging opportunities are used to nudge users toward the right decisions and behaviors.
Read this whitepaper to learn how SecurityCoach can:
Deliver the right education where needed to maximize its impact
Encourage real-time learning with content provided when and where it will matter most
Provide critical insights to management to help determine where more focused training is needed
Download this whitepaper today!