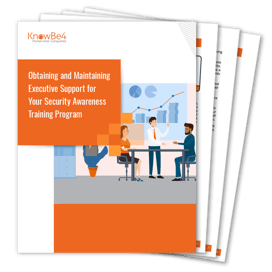 This challenge is heightened when it comes to security awareness training, since training and its impact aren't always clearly linked to an organization's bottom line. For your security awareness program to be a success, your executive team must be convinced that the security mindset and culture created by security awareness training is the right thing for the organization.
So, how do you obtain and maintain the executive support you need?
Download this whitepaper to explore some of the questions you should ask when seeking executive buy-in for your program. You'll also learn steps you can take to put yourself in the best possible position to get the support you need.
Download now to learn:
How best to tell your story to your executive team for maximum impact
What communication strategies are most likely to get the results you want
Actionable insights for explaining the goals of your program and speaking your executives' language
Download this whitepaper today!