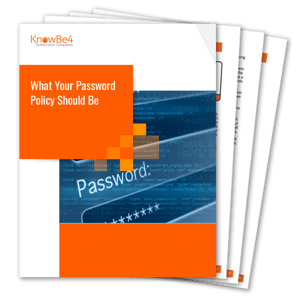 In this e-book, Roger A. Grimes, KnowBe4's Data-Driven Defense Evangelist, details the pros and cons of password use. Roger explains how the implementation of supporting frameworks, such as MFA and password managers, can help you keep your organization locked down.

From common password attacks to what to put in place to stop them, he covers it all!
Download this e-book to learn:
What tactics bad actors use to hack passwords (and how to avoid them)


The pros and cons of password managers and multi-factor authentication and how they impact your risk


How to craft a secure password policy that addresses the most common methods of password attack


How to empower your end users to become your best last line of defense
Download this e-book today!