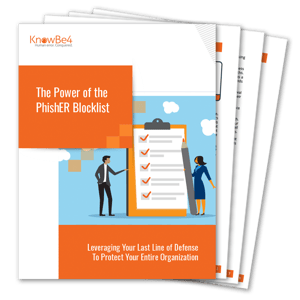 If your users are already reporting suspicious emails, your SOC team should be using this effort to strengthen their email filtering and blocklisting decisions.
In this whitepaper, learn how the blocklist feature built into PhishER, KnowBe4's lightweight security orchestration, automation and response (SOAR) tool, helps make the most of its machine-learning capabilities through user input. See how you can improve your Microsoft 365 email filters using reported messages to keep similar phishing emails from reaching the rest of your user base.
Read this whitepaper to learn how the PhishER blocklist feature can:
Relieve an overworked SOC


Incorporate user input to augment existing infosec tools


Support a strong security culture
Download this whitepaper today!