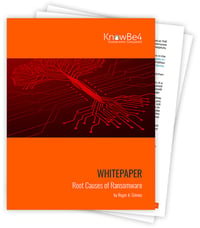 But the key to mitigating this scourge is understanding that ransomware is not your real problem. It is the outcome of your real problem, which is often related to social engineering and phishing. Without a way in through the vulnerable human layer or unpatched software, ransomware would have less opportunity to cause operational interruption and damage.

This whitepaper, by KnowBe4's own Data-driven Defense Evangelist Roger Grimes, explores the root causes of ransomware based on a review of industry research and offers advice for mitigating ransomware risk in your organization.
Download this whitepaper to learn:
How ransomware typically finds its way into a network
The prevalence of various kinds of ransomware entry points
Tips for mitigating your ransomware risk
Download this whitepaper today!