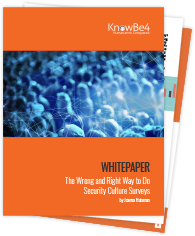 The availability of free survey tools, coupled with the potential for collecting useful insight, makes building your own seem like a good option. But if your challenge is to design a survey that reflects reality and provides data that is both meaningful and useful, you need a number of specific skills.
The best case scenario of a poorly made survey is useless data. The worst case? Your company is sent down a path that sets them up for failure.
In this whitepaper, Joanna Huisman, KnowBe4's Senior Vice President of Strategic Insights and Research, explores what it means to develop and deploy a meaningful security culture survey and the benefits it can bring to your security awareness training initiative.
Download this whitepaper for insights into:
Common survey pitfalls and how to avoid them
Tools designed to help collect meaningful and actionable data from your surveys
The benefits of a thoughtfully designed security culture survey
Download this whitepaper today!